Imagine everyone in your church was kept up to date of the events they wanted to know about, automatically...
Now you can.  With the Event Calendar Newsletter plugin for WordPress, you can keep everyone in the loop of the events your church is running automatically by email or with a couple clicks.
For YEARS I have been hoping, wishing, praying for a way to automate getting our weekly events into our campaign. I am so thrilled to have you come across your plugin and am incredibly appreciative of your personal assistance in getting the tool up and running. Thank you!
Lisa Milligan
Parent Teacher Organization Website Consultant
Once you install and activate the plugin, you'll be able to select which events you want to include (such as start date, start/end time, location, description, featured image, and a link to view the details of the event on your site) and save as many templates as you need:

Then you can automatically add them into a supported email system like ActiveCampaign, MailPoet, or MailChimp: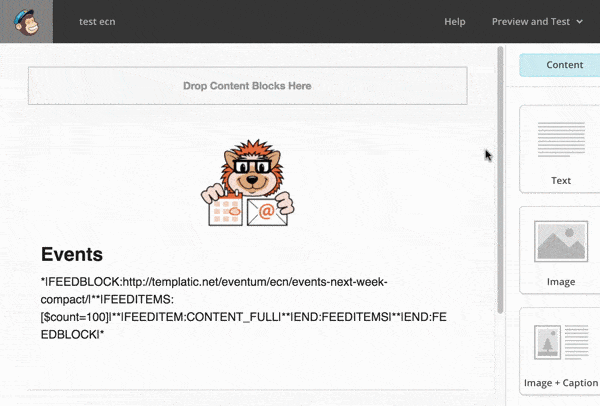 Or a quick copy/paste into whatever email system you use.  With MailChimp, you can even allow church members to select the type(s) of events they are interested in using MailChimp groups!
Frequently Asked Questions
What if I don't have my church's events listed on the website currently?
No problem! Just install Event Calendar Newsletter and we'll show you some options of popular event calendars you can add to your site.  Then just add a some events and start adding them to your newsletters!
Can I select events by one or more categories or tags?
Absolutely!  You can select only the events you want to include, and even save as many templates as you need to have different sections in your newsletter(s).
Can I add in my news as well as events?
Yes! There's a video showing you how to do just that.
How many events do I need to have to use Event Calendar Newsletter?
Even if you only have a few events each month, you'll still benefit from using Event Calendar Newsletter.  You'll never have to manually type or copy in the details of your events again, which can be time consuming and prone to error.
What if my church's website isn't on WordPress?
Unfortunately only WordPress websites are supported at this time.  If you were interested in switching (even just as a site to show your events) the creator of the Event Calendar Newsletter hosted a webinar you can watch for free on creating a WordPress website.  While it's geared towards freelancers the content still applies.
What WordPress event calendars do you support?
Event Calendar Newsletter currently supports:
The Events Calendar (by Modern Tribe)
All-in-One Event Calendar by Time.ly
Event Organiser
Events Manager
Simple Calendar (aka Google Calendar Events)
Eventum theme (by Templatic)
Not sure if the WordPress calendar you want to use is supported, unsure of which one to pick, or want us to add support for your event calendar? Contact us!
Is there a limit to the number of events I can have?
Nope!  And even with a small amount of events, you'll still save a lot of time, and ensure you never make a mistake and need to send out a 'date correction' email ever again.
Do I need to renew my license keys each year?
Your license keys are valid for one year from the purchase date. You need an active license key for continued access to automatic updates and support. When you renew your license you'll receive a huge 30% discount off the current prices!
Is there a free trial?
We do not offer a trial, but you can try the Event Calendar Newsletter plugin and if you don't like it, just let us know within 30 days and we'll happily refund your money.
Get this plugin now
Save hours of your time and keep people informed of the events your church organizes using this plugin.
30-day money back guarantee
Pre-sales Questions
Get this plugin now
Save hours of your time and keep people informed of the events your church organizes using this plugin.
14-day money back guarantee. All price options are billed yearly. You may cancel your subscription at any time. License needed for support and updates.

Pre-sales Questions